Jill brings 20 years of experience in communications and public relations in the private and public sector. Her sharp eye for detail, high energy and professionalism allow her clients to achieve the results they need, including multiple accolades from the Public Relations Society of America, Keystone Chapter.
Prior to joining La Torre Communications, Jill spent seven years at the Pennsylvania Bankers Association, where she handled the association's public relations and communications needs, including serving as the managing editor of paBanker Magazine. Duri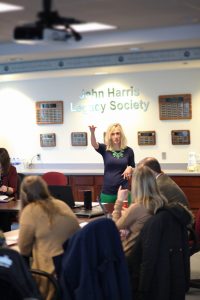 ng her tenure, she guided the association through a rebranding campaign, website redesign and social media launch. She also handled the association's extensive marketing of programs, events and annual meeting.
Jill started her career at the United Way of the Capital Region, where she gained valuable media relations and event planning experience before joining the Office of Rural Development under Govs. Ridge and Schweiker, and later the Pennsylvania Public Utility Commission's Office of Communications.
While at the Public Utility Commission, Jill played a key role in several statewide public service campaigns, including consumer education for the 711 telecommunications relay service. The 711 telecommunications relay service campaign focused on educating all Pennsylvanians so that people who are deaf, hard of hearing or speech disabled could be empowered by the PA Relay technology. The campaign accomplished this through 2,500 radio spots across 50 stations statewide, 60 billboards, 400 mass transit ads, more than 80 newspaper ads in over 15 papers, mall kiosk advertising, a website and in-classroom elements. As a result, the relay service saw recognition rise among the hearing public.
Jill's past client work has awarded her multiple accolades from the Public Relations Society of America, Keystone Chapter.
She graduated from Lebanon Valley College with a bachelor's degree in English/communications with a minor in business. She is a United Way of the Capital Region public relations/social media committee member and chair of the Girls on the Run – Capital Area board.