Non-profit food pantry strengthens communications in 30th year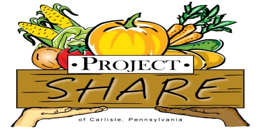 Issue
Thirty years ago, Project SHARE founder Elaine Livas began distributing food and clothing to those in need from the trunk of her car. Today, Project SHARE provides essential basic assistance to 3,000 community members each month from its 23,000-square-foot headquarters in Carlisle, Pennsylvania. As the organization prepared to celebrate its 30th year in the fall of 2015, Project SHARE enlisted the help of La Torre Communications to strengthen its brand and prove its staying power to the community.
Strategy
After conducting comprehensive research and strategy planning, La Torre dove into intensive media relations and social media campaigns.
La Torre:
Streamlined the organization's communication outreach with one point of management for external communications;
Launched an intensive educational and motivational social media campaign aimed at donors, recipients, volunteers and community members; and
Conducted comprehensive media relations to tell the story of Project SHARE's impact.
Result
La Torre's work has helped to boost Project SHARE's name recognition and better educate the organization's donors, volunteers and clients on the many opportunities Project SHARE has to offer. Both the organization's media attention and social media reach significantly increased, leading the way to increased fundraising, donations and volunteerism.
La Torre's work with Project SHARE was presented with a Keystone Award for Reputation/Brand Management, the highest honor from the Public Relations Society of America, Central Pennsylvania Chapter.